Posted on
Hello Spring, we've been walking down your worn and familiar road of soft breezes, budding leaves and boats tired of hanging about and chomping at the bit to get the heck on the water!
Lockdown Latest
White Squall Outdoor Store in Parry Sound and the Paddling Centre on Carling Bay Road are both closed but will provide curbside service for local pickups/delivery only. Call 705-746-4936 or e-mail: [email protected] or [email protected]
If you are not local, please don't come – thanks:)
Once we get past the 'stay at home' order in early May – we hope to have the town store open Mon-Sat and the Paddling Centre will be open by appointment only.
French River Fire
Many of you will remember the devastation caused by what's known as Parry Sound 33. It took out nearly 30,000 acres of bush up between the Pickerel and Key Rivers in the summer of 2018. I've been fortunate to paddle the perimeter of it 3 times since, marveling, as mother nature does her damndest to put things back. Fires are part of rebirth, though this one was hard to take as it scorched soil and rock, flora and fauna – taking out important wetlands. Mike Waddington, a professor of EcoHydrology from McMaster University has focused on studying this fire and has kindly allowed us to send this short video out to you – so here ya go and big thanks to Mike! https://www.youtube.com/watch?v=ve-gbni1ghE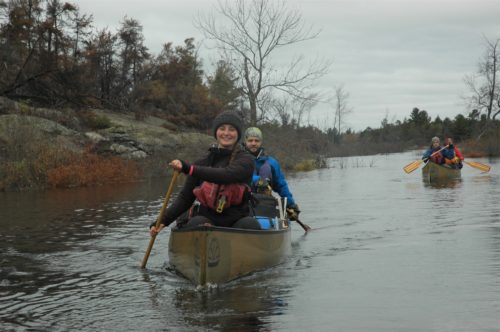 Online Sea Kayak School – Who Knew!
Incoming from our friends at SKILS in BC. " We are excited to share our new online classroom (www.geoskils.com). SKILS has developed 14 different online training courses for sea kayaking guides, instructors, recreational kayakers and boaters. Anyone booking a guide training course or Paddle Canada course with SKILS will have access to the online classroom prior to the practical course to help you get the most out of the in-person learning.
This is an invaluable resource for anyone looking to learn about paddling from beginner to advanced. I've taken training from them years ago out west and White Squall has contracted SKILS to train our staff a few times over the years. These guys are the real deal:)
Far Out & Funky Outdoor Gear Giveaway
Got yer attention? All ya gotta do is tell us ([email protected]) that you've donated $20 to GlobalMedic (globalmedic.ca) and for every $20 we'll throw your name in our old winter toque for an unbelievable outdoor gear draw happening at the end of April. Generously supported by community-minded suppliers continent-wide and it's all in support of GlobalMedic. We're putting the stuff into 3 piles so if you win – you'll get more than you ever imagined. The odds of getting lucky are way better than any lottery or high school dance and you're helping Canada's best entirely-volunteer global disaster response agency. To wet your whistle, here is a smattering of what's up for grabs – remember 3 big piles of stuff, so lord knows what you'll get!
Keen Boots – Keen Canada
Organic Jam Baskets & Gift Certs – Crofters of Parry Sound
Kayak & Canoe Paddles – Riot & Grey Owl
Neoprene Skirts & Cockpit Covers – Delta & Brooks
Salus PFDs
Buff's Matching Hat & Buff
Baseball Hat & Buff from Georgian Bay Land Trust
Far Out Stuff from Georgian Bay Biosphere
Mystery Things from Trestle Brewing:)
Base Camp Duffle – North Face
Rescue Gear – Northwater
Dry Backpack – Blu Wave
20L Barrel, Canoe Pack and Liner – Barrelworks
Top Quality Hoodies (I have one and it makes me look 30 years younger easy) – Gillys of Snug Harbour
Kayak & Canoe Lessons – Squall Staff
Boats & Bull
We are pre-selling boats coming in from Delta, Blu Wave, Nova Craft, Current Designs and H20. Customer demand seems to be high and we're not exactly sure why, but the point is, if you are looking for boats/boards for this summer – best to "get a move on" as my dad used to say. None of this is tea from china, i.e. – far-fetched. See what we have coming in here: https://www.whitesquall.com/kayak-canoe-sup/
International Paddling Film Festival
We're doing it online sports fans so fire up the popcorn or miss vicki and come for a ride on the wild side without leaving your couch. You'll be supporting GlobalMedic, one of Canada's shining lights in the world and an entirely volunteer-run rescue response team. They were on the ground this autumn in the Philippines working with typhoon rescue efforts as well as in Armenia and Azerbaijan where conflict is causing huge human suffering. With COVID, they are providing critical infrastructure including Treatment Field Tents, PPE and emergency food distribution programmes. All the details are here: globalmedic.ca You'll more understand just how important these guys are to the tapestry of Canada. Link to the films here:
https://paddlingfilmfestival.com/?ref=WHITESQUALL Use promocode WHITESQUALL10 for a 10% discount.
Rentals and Spring/Summer
We have kayaks, canoes & sups just itching to get on the water. But like everything these days – there aren't tons and they're going fast, much like hamburgers at a vegetarian folk festival. So please let us know if you are dreaming of a summer paddle and we'll do our darndest to help you out.  I know you never thought we would, but we did, we went digital with rentals.  You can now see what's available and book your adventure, clickety-click ~ Book Rentals Here.
Back-Country Park Camping Fee Alert
Take a minute out of your crazy day to watch: https://www.youtube.com/watch?v=jdCm7Kx8rYk. Ontario Parks has announced a 2-year back-country pilot project for Massassauga and Temagami to charge flat rates similar to what you would see in a campground. All well and good if you are a family, but if you camp solo or with one other – your fee per night would change from around $12 to over $40 per night! I know prices on everything are going up – but hold the phone martha, this is way out of whack. Please consider this petition now circulating, cause you can bet your shirt that if there is no pushback they will soon make it system-wide.
https://www.change.org/p/jeff-yurek-minister-of-the-environment-back-country-camping-fee-increases-in-ontario
Outer Island Project
For longer than loggers have worn underwear, the Squall and community partners have been picking up garbage and installing thunderboxes on island campsites. Called OIP – you can see details of this here: https://www.whitesquall.com/outer-islands-project/ including our annual report. The local Georgian Bay Biosphere has kindly set up an Outer Island Fund to help us and anyone else wanting to get their fingernails dirty. We encourage anyone to go and if you incur expense, the fund can help – you can ask me for details: [email protected] Several of you have kindly offered to come out with us – but truth be told, we go on a moment's notice like jack the bear pending weather, so find it hard to co-ordinate folks when it's far easier to ask you to just go, when you can!
Had enough of this hooting and hollering? Just hit reply and put "go away tim" in the subject line and i will:)
That's all she wrote folks! tim